Sweet Cherry Picking
SWEET CHERRY PICKING BEGINS SATURDAY, MAY 25 (Call ahead, cool weather might push it back to Thursday, May 30)
54 varieties, three generations, and 111 years. Levering Orchard is an amazing cherry-picking experience! In each of the past three years, a freeze shortened our cherry crop. Luckily, this year the crop is MUCH better, and – if we've missed you the past three years – we hope to see you BACK AGAIN this year!! Remember, conditions change day to day on a cherry orchard, so it's always a good idea to call ahead before you come. Also, sadly, because of new immigration enforcement that is impacting farm workers, we MAY have trouble this year having enough cherries already picked at the moment you arrive. Thank you for your understanding, and patience. We aim to please, and will always do our best.
In addition to retail sales at our packhouse, Levering Orchard offers the pick-your-own experience.
Listed below are the dates we anticipate as "start dates" for picking and selling our different fruits. These are ESTIMATED start dates — it's very hard to be sure a long ways ahead of time, because of weather and other factors. Sometimes we have to begin a little sooner than we estimated, at other times, a little later, to let the fruit ripen. Mother Nature can be fickle. So phoning or e-mailing ahead before you come is STRONGLY ADVISED!
For daily updates on availability, call 276-755-2224, or call the packhouse at 276-755-3593, during business hours, to speak to someone. After 5:30, you can also call the Packhouse phone, 276-755-3593, for a daily recorded update.
UPCOMING FRUITS (estimated start dates):
Sweet cherry picking begins May 25 at Levering Orchard!
Early sweet cherries available Saturday, May 25 (but possibly May 30, if cooler weather)
Mid-late season sweet cherries from June 1 til (ESTIMATED) June 29
Sour/Tart cherries available (ESTIMATED) starting June 14
Freestone Peaches (ESTIMATED) available August 3
Many summer apple varieties available from August 3 til September 2
Fall apples (ESTIMATED) September 14 til mid-November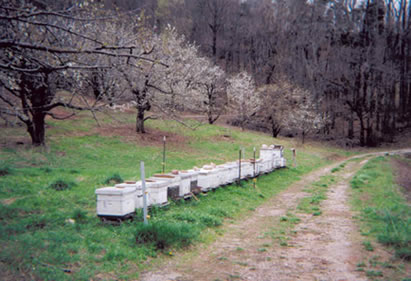 Fruit Hotline: 276-755-2224
Packhouse Fruit Hotline: (after business hours) 276-755-3593
ORCHARD HOURS:
CHERRY SEASON 2019
Open Monday thru Saturday, 8:30 a.m. til 5:30 p.m. Pick-your-own orchard closes promptly at 5:30.
Open Sundays 10 a.m. til 4:30 p.m.
Pick-Your-Own available anytime we are open
PEACH/SUMMER APPLE SEASON 2019
Pick-your-own on both days!
Open Saturday, 9 a.m. til 5 p.m.
Open Sunday, 1 p.m. til 5 p.m.
CLOSED Monday through Friday, every week
FALL APPLE SEASON
Open Monday through Saturday, 8:30 a.m. til 4:30 p.m.
Sunday: Open most Sundays 1 – 5 p.m. Please call ahead.
PICK-YOUR-OWN APPLES, SATURDAY and SUNDAY only