Sweet and Sour Cherry Picking
SWEET CHERRY PICKING (ESTIMATED) BEGINS WEDNESDAY, JUNE 1. HOWEVER, WE MAY START AS EARLY AS SATURDAY, MAY 28. (Be sure to call and/or email us before you come!)
58 varieties of cherries and a beautiful mountainside make Levering Orchard an amazing cherry-picking experience for kids and adults alike! Because of a labor shortage, we can not guarantee that already-picked cherries will always be available. If you are unable to do your own picking, please consider bringing pickers with you to help out.
Weekends can be busy, so consider coming to get cherries during the week. Monday through Thursday are especially good days to come to the orchard.
Remember, conditions change because of rainy weather, so BE SURE to call or email us before you come.
PAYMENT: Cash or check only.
For daily updates on availability, call 276-755-2224, or call the packhouse at 276-755-3593. You can also email us at franklevering1@gmail.com. Replies to your emails usually will occur at night, after business hours.
UPCOMING FRUITS (ESTIMATED start dates):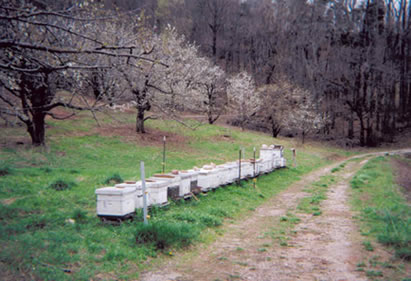 Sweet cherry-picking begins Wednesday, June 1. (ESTIMATED) But possibly as early as Saturday, May 28.
Sour/tart cherry picking starts Tuesday, June 14. (ESTIMATED) But possibly we will start on Saturday, June 11.
NO AUGUST PEACHES (But call in August, as this may change)
Fall apple sales start Monday, September 5 and continue into November.
Fruit Hotline: 276-755-2224.
Packhouse 24 hour in person or recorded information: 276-755-3593.
ORCHARD HOURS:
CHERRY SEASON 2022
Open as long as cherries last, Monday-Saturday, 8:30 a.m to 5:30 p.m.
Open on Sundays from 10 a.m. to 4:30 p.m.
FALL APPLE SEASON
Open Monday through Saturday, 8:30 a.m. to 4 p.m.
Open on Sunday 1 p.m. to 5 p.m.
PLEASE CALL AHEAD.
Pick your own apples starting Saturday, September 10.
Pick your own apples on Saturday and Sunday only. PYO not open Monday
through Friday. (but you can buy apples already picked on those days)