Sweet Cherry Picking
SWEET CHERRY PICKING (estimated) BEGINS WEDNESDAY, MAY 27, 2020. (Please call ahead or email us, we MAY open as early as Memorial Day, or soon after May 27)
56 varieties, three generations, and 112 years. Levering Orchard is an amazing cherry-picking experience! And this year we have a bumper crop, the largest in ten years!
SAFETY FIRST! In 2020, we are following CDC guidelines for safety. Also, if possible, bring your own sanitizer. If you don't have any, we have hand-washing stations available. Masks are encouraged. Please keep children and pets near at hand. Also, while in the orchard and when purchasing fruit, we will be following guidelines for social distancing. THINK SAFETY!
Remember, conditions change every day on a cherry orchard, so it's always a good idea to call or email us before you come. And, though we do have a truly bumper crop this year, sometimes, for already picked cherries, there can be a short wait as fresh cherries come in from the trees. You can also try the cell phone at 276-730-4722 or email Frank at franklevering1@gmail.com.
PAYMENT: Cash or check only.
For daily updates on availability, call 276-755-2224, or call the packhouse at 276-755-3593, during business hours, to speak to someone. After 5:30, you can also call the Packhouse phone, 276-755-3593, for a daily recorded update.
UPCOMING FRUITS (estimated start dates):
Sweet cherry picking begins Wednesday, May 27 at Levering Orchard.
Early sweet cherries available starting Wednesday, May 27 (but possibly earlier or later).
Mid to late season sweet cherries from June 6 til (estimated) July 1.
Sour/Tart cherries (estimated) available starting June 16
Peaches (estimated) available starting August 1
Many summer apple varieties available from August 8 til August 30
Fall apples (estimated) available September 5 til mid-November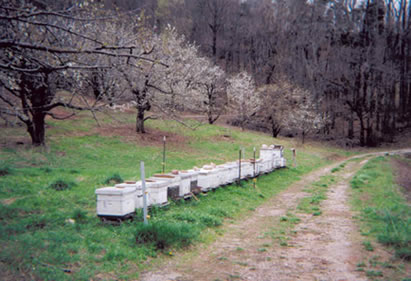 Fruit Hotline: 276-755-2224
Packhouse Fruit Hotline: (after business hours) 276-755-3593
ORCHARD HOURS:
CHERRY SEASON 2020
Open Monday thru Saturday, 8:30 a.m. til 5:30 p.m. Pick-your-own orchard closes promptly at 5:30.
Open Sundays 10 a.m. til 4:30 p.m.
Pick-Your-Own available anytime we are open
PEACH/SUMMER APPLE SEASON 2020
Pick-your-own on both days!
Open Saturday, 9 a.m. til 5 p.m.
Open Sunday, 1 p.m. til 5 p.m.
CLOSED Monday through Friday, every week
FALL APPLE SEASON
Open Monday through Saturday, 8:30 a.m. til 4:30 p.m.
Sunday: Open most Sundays 1 – 5 p.m. Please call ahead.
PICK-YOUR-OWN APPLES, SATURDAY and SUNDAY only