Sweet and Sour Cherry Picking
SWEET CHERRY PICKING ((ESTIMATED ) BEGINS SATURDAY, JUNE 5. (Be sure to call ahead or email us before you come, as dates can change and/or supplies run out)
On a normal year, 56 varieties and a beautiful mountainside make Levering Orchard an amazing cherry-picking experience! But this is not a normal year. An April freeze killed most of the sweet cherry crop and one-third of the sour cherries. This year, it's first come, first served for as long as the cherries last. And because of the freeze, we can not guarantee sales of already picked cherries this year.
SAFETY FIRST! In 2021, we are following CDC guidelines for safety. Also, if possible, bring your own sanitizer. If you don't have any, we have hand-washing stations available. Masks are encouraged. Please keep children and pets near at hand. Also, while in the orchard and when purchasing fruit, we will be following guidelines for social distancing. THINK SAFETY!
Remember, conditions change and supplies can vary every day on a cherry orchard, so BE SURE to call or email us before you come.
PAYMENT: Cash or check only.
For daily updates on availability, call 276-755-2224, or call the packhouse at 276-755-3593, during business hours, to speak to someone. After 5:30, you can also call the Packhouse phone, 276-755-3593, for a daily recorded update. You can also email Frank AT NIGHT at franklevering1@gmail.com.
UPCOMING FRUITS (estimated start dates):
Sweet cherry picking begins Saturday, June 5 (ESTIMATED)
Sour/Tart cherry picking starts Saturday June 12 (ESTIMATED)
NO AUGUST PEACHES.
Summer apples (Galas and other varieties) available Sundays only, August 22 and August 29.
Fall apples starting Monday September 6 till mid-November.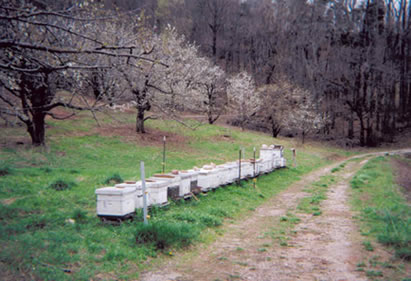 Fruit Hotline: 276-755-2224
Packhouse Fruit Hotline: (after business hours) 276-755-3593
ORCHARD HOURS:
CHERRY SEASON 2021
Open as long as cherries last, Monday-Saturday, 8:30am – 5:30pm.
Open Sundays 10:00am – 4:30pm.
SUMMER APPLE SEASON 2021
Open Sunday August 22 and Sunday August 29, 10 – 5.
Otherwise closed.
FALL APPLE SEASON
Open Monday through Saturday, 8:30-4:30
Open most Sundays 1-5 p.m.
PLEASE CALL AHEAD
Pick–your own apples starting Saturday September 18
Pick your own apples on Saturdays and Sundays only. PYO not open
Monday through Friday. (But can buy apples already picked)