Seasonal News
With our cherries and peaches, we are primarily a pick-your-own orchard, though usually those fruits are available already picked, as well. Labor shortages related to immigration issues prevent us from guaranteeing cherries and peaches already picked, but it's rare when the already-picked supply runs out. Picking your own cherries and peaches is one of life's greatest pleasures, as many of our customers tell us. It's a great way, as well, for family and friends to spend time with each other. Many of our customers tell us stories about how much the pick-your-own experience has meant to their children over the years they've been coming to pick.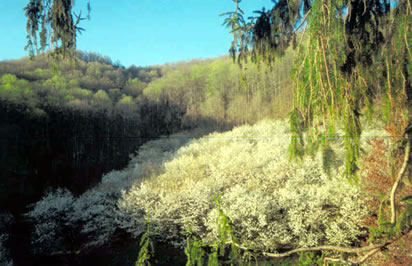 We are proud to have a long tradition of growing food for local customers. We don't ship fruit to supermarkets — our fruit is locally grown food for local or regional folks, thus circumventing the environmental problems associated with long-distance food. At our orchard, right at the source of the fruit, you are sure to get ripe and ultra-fresh fruit, lovingly grown. It is important to us to connect directly with you, our customers, and we feel that this connection is very special. All food has a story, and the story of our fruit is that direct, intimate connection between how and where our fruit is grown, and you, our customers and friends. By buying locally grown fruit, you also contribute to the vitality of our local economy, with your dollars staying in this region. You also help in what is becoming an American crisis — the loss of farmland to development. Your support of our farm helps us preserve it.
This year, our 112th birthday, is a very special year. This year we mark, and celebrate, not only a long tradition of family farming but also a tradition of concern for major issues affecting all of us. As Quakers, Ralph and Clara Levering worked actively for peace in their Quaker Meeting and elsewhere. Ralph's thoughtful, weekly letters to the "Winston-Salem Journal" influenced many people. Sam and Miriam Levering continued that tradition and broadened the scope of activities to include many years of work on behalf of international law, years that culminated in their crucial role in the creation of the Law of the Sea Treaty, with his investment in the community, and best-selling book, "Simple Living," and PBS series of the same name, Frank for many years has been a leader among environmental stewards who see the crucial connection between personal lifestyle choices and our environment. Thus for three generations, and a full century, families here have combined orcharding with strong and effective activism on behalf of peace, international law, and the environment.
We hope that you enjoy your time at the orchard, and that we will have a chance to get to know you when you come. We prize the friendships that have emerged at this beautiful intersection of farmland, fruit, and people. Please feel free to contact us at any time at the phone numbers listed here on the site, or e-mail us at franklevering1@gmail.com
Thank you — and again, welcome!
PEACHES, APPLES, CHERRIES AND MORE
In addition to peaches, you'll find a number of varieties of summer apples for sale, both cooking and eating apples. Lodi, a world-class cooking apple, should be available at least until the end of July, and throughout late July and most of August we'll have Jersey Macs (a wonderful semi-tart apple), Paula Reds (ditto) and Tydeman's Reds, which many people consider to be in a class by itself. By late July/early August we expect our Gala apples to be ready to pick. This beautiful, sweet apple variety gains popularity nationwide every year.
Our quantities are limited until our young trees grow larger, but we do have some nectarines for sale on a first-come, first-serve basis. As always, it's best that customers call the packhouse when it's open at 276.755.3593 to gain up-to-date information. Conditions can change due to weather and other factors, and fruit can sell out.
FALL APPLES
Levering Orchard was founded by Frank's grandfather in 1908 as an apple orchard, and though today we grow a wide range of fruit, we continue to honor Ralph Levering's original vision by producing many varieties of fall apples. By Labor Day, we're picking and selling old standards like Red and Golden Delicious, as well as Spartan, a Macintosh-cross variety that wins new fans every year for it's not-too-sweet, not-too-tart balance and juicy crispness. By the end of September we're into our Jonagold season (a cross between Jonathan and Golden Delicious), and the first week of October marks the beginning of Mutsu season.
MUTSU SEASON? WHAT'S A "MUTSU?"
"Mutsu" is the Japanese word for an apple variety-originating in Japan-that just might be the greatest apple variety in the world. A lot of our veteran customers think so. And while we aren't going to take sides in this debate, the fact is the Mutsu apple grows spectacularly large, is a beautiful green-gold, has a scrumptious, dense crispness and well-balanced flavor, and will store for months in a cool place after you take it home. It's just a sensational apple! Most supermarkets don't carry it because supermarkets don't want to sell an apple this big-it isn't convenient. But we're not a supermarket-we're an orchard selling truly fresh fruit (by contrast, theirs is usually shipped long distances and stored for long periods). And as an added bonus, we sell our fruit at much cheaper prices.
So check out our Mutsus. We'll have them for sale at least until Thanksgiving. They're what an apple should be.
STAYMEN-WINESAPS, GRANNYS, FUJIS, YORKS, ROMES
October and November are also the season for many classic varieties. Our Staymen-Winesaps are ripe during this period, and many people believe that this semi-tart apple is king of the hill. Others say that the Granny Smith-a favorite at our house, for sure-is impossible to beat. If you like something sweeter, our Fujis fill the bill (and the tummy). Yorks and Romes continue to set the standard for fall cooking apples.
Call 276.755.3593 during business hours for varieties available or email franklevering1@gmail.com
In the meantime, we hope to see you at Levering Orchard, hungry for fresh peaches, apples, and other fruits. We'll do our best to satisfy your appetite and provide you with a fresher, more healthful, more adventurous alternative to supermarket fruit! As family farmers, we appreciate your interest, your business, and your friendship. We look forward to seeing you – not only in cyberspace but — in the Blue Ridge Mountain space!