Contact Us
LEVERING ORCHARD
163 Levering Lane
Ararat, VA 24053
Fruit Hotline (call 24/7 for info): 276-755-2224
Packhouse Office & Fruit Hotline: 276-755-3593
Cell Phone: 276-730-4722
Email Us at: franklevering1@gmail.com and Frank will get back to you ASAP.
About the Fruit Hotlines
You can call 276-755-2224 for the latest info, updated daily. Or the number for our fruit packinghouse and fruit hotline is 276-755-3593. Here, during business hours, you can usually speak with someone to obtain additional information. After business hours, this number functions as a Fruit Hotline as well. The recording will give you daily updates and vital information. If you wish to speak with someone, please leave your name and number and we will try to get back to you, normally and if at all possible the next day.
Driving Directions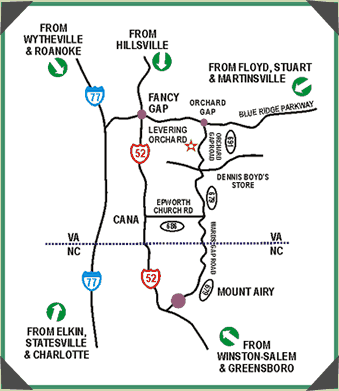 From US 52, 1 mile north of VA line, turn east on Epworth Church Rd. (VA 686). Go 3 miles to Wards Gap Rd. (VA 679). Turn left and go straight for 3.6 miles to 3-way fork. Follow middle fork, Orchard Gap Rd. (VA 691), to Levering Orchard packhouse (.7 mile)
From Blue Ridge Parkway, between mileposts 193 & 194 at Orchard Gap (east of Fancy Gap, west of Meadows of Dan), go south on Orchard Gap Road (VA 691), down mountain 2 miles.
From downtown Mount Airy, follow Wards Gap Road (VA 679) north to Orchard Gap Road (VA 691). Straight ahead on left.